Rattata is a Normal Type introduced in Generation I of Pokémon.
It evolves into Raticate at Level 20.
Rattata has a regional variant in Alola that is Dark and Normal. If leveled up at night in Alola, starting at Level 20, Alolan Rattata evolves into Alolan Raticate.
Rattata is the only available Starter Pokémon in Pokémon Rumble.
Rattata's attacks learned by leveling up are: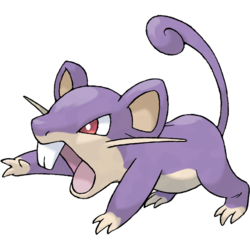 | | | | | | | |
| --- | --- | --- | --- | --- | --- | --- |
| Level | Move | Type | Category | Damage | Accuracy | PP |
| 1 | Tackle | Normal | Physical | 40 | 100% | 35 |
| 1 | Tail Whip | Normal | Status | — | 100% | 30 |
| 4 | Quick Attack | Normal | Physical | 40 | 100% | 30 |
| 7 | Focus Energy | Normal | Status | — | —% | 30 |
| 10 | Bite | Dark | Physical | 60 | 100% | 25 |
| 13 | Pursuit | Dark | Physical | 40 | 100% | 20 |
| 16 | Hyper Fang | Normal | Physical | 80 | 90% | 15 |
| 19 | Assurance | Dark | Physical | 60 | 100% | 10 |
| 22 | Crunch | Dark | Physical | 80 | 100% | 15 |
| 25 | Sucker Punch | Dark | Physical | 70 | 100% | 5 |
| 28 | Super Fang | Normal | Physical | — | 90% | 10 |
| 31 | Double-Edge | Normal | Physical | 120 | 100% | 15 |
| 34 | Endeavor | Normal | Physical | — | 100% | 5 |